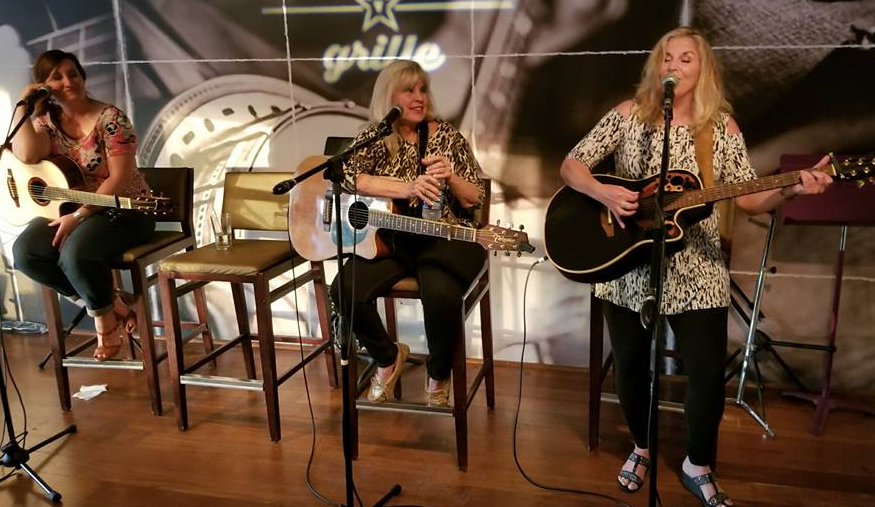 In-the-Round: Me, Jan Buckingham and Donna DeSopo. Photo credit Bill Warrington.
Years ago, a friend shared a story with me about a very challenging hike she went on. The trail would end at an amazing summit that took hours and hours of hard climbing to reach. She was head down, huffing and puffing away, when suddenly her friend and fellow hiker stopped. 
"You need to take a look at this beautiful scenery," he said. 
She responded, "Well, we aren't even close to the top, why stop now?" 
"Because the only amazing view isn't just the one from the top," he replied matter-of-factly. 
As I sat in a Nashville songwriter's round last Friday night, I was thinking about the amazing view I had on stage. Next to me was Jan Buckingham, a twice Grammy-nominated songwriter with countless hits. Growing up, I remember singing along to Pam Tillis' "Queen of Denial" and Whitney Houston's "Moment of Truth." Back then I had no idea Jan had written those songs. About seven years ago, Jan and I met and wrote our first song together with another hit songwriter, Wood Newton. It is an honor to know Jan as a friend and to work with her as a fellow songwriter. 
Also in the round was another good friend, Donna DeSopo. Donna is a New Jersey girl and another great writer. We've written some of my favorite songs together like "Til My John Wayne Comes Along" and "Love Shouldn't Hurt." What fun we've had! 
As a driven and hard-working person, sometimes I can be frustrated when I don't achieve a goal or milestone. I am metaphorically hiking through my life and I want to get to the summit to see the view from the top- whatever that is. 
When I went back to college to earn my music degree at Berklee, they told us at orientation that only 30 percent of us would graduate. There was no question in my mind that I would be in the group that graduated. Maybe it's the cowboy grit I was raised with on the farm, but I finish what I start. Even if it's with duct tape and a grimace, I finish. 
When the terrain is rocky and the summit is far out of sight, I do my best to remember this 'parable of the hike.' No matter where I'm at or what I'm doing, if I look up there is always some amazing view and something to be grateful for.
Also check out:
Dreams are Free, Hustle is Sold Separately