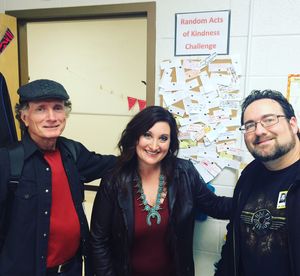 Nashville Songwriters, L to R:  Wood Newton, Shantell Ogden & Marcum Stewart in front of the "Random Acts of Kindess"
Bulletin Board at Mount Juliet Elementary
When hit songwriters Wood Newton, Shantell Ogden and Marcum Stewart got together to write a song, they started talking about a story in the recent news. An email from Mt. Juliet elementary was sent to a man in New Jersey (Thaddeus Livingston) by mistake requesting help with school supplies. Not only did he respond with the supplies, he used it as an opportunity to teach the students about random acts of kindness! Mr. Livingston challenged the students to pass kindness on, and now they are keeping track of their kind deeds on a bulletin board at school.

To capture their story and carry on the message of kindness, Wood, Shantell and Marcum wrote a song called "A Little Bit of Love." On November 18, 2015, they even had the opportunity to perform it for the kids in Mrs. Lupton's class (watch the video here)!
All Song Sales will be Donated to Mt. Juliet Elementary!