As featured in Berklee Alumni publication Oct. 30, 2020

This month, hear from alumna Shantell Ogden '05, who is working on a nine-song acoustic album, called "One Step Closer: Songs to Recover By," about addiction, from the experience of hitting rock bottom to how addiction impacts others. The album also explores the journey of recovery. 
Who did you work with on the album? 
I recorded with Dave Smith, a great guitar player, singer, and engineer here in Nashville. Dave is a well-known touring musician and currently plays in Toby Keith's band.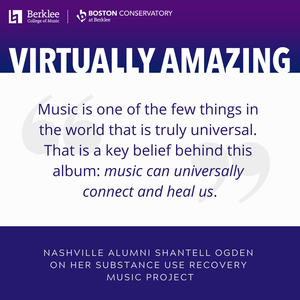 What inspired you to launch this? 
Some of the most disturbing headlines during the Covid-19 pandemic have been about the increase in overdose and addiction due to stress, financial strain, depression, and isolation. All of these can be triggers for those who struggle with substance abuse. 
This album is an opportunity for me to reach out in a way I can as a singer-songwriter to touch hearts and connect people through music. Through these songs and stories about addiction, we can give a voice to inner pain and inspire hope and healing. 
While I have never struggled personally with substance use, we have lost several members of our family to addiction and overdose. In addition, many of these songs have been written with other songwriters who have personally battled addiction. 
How did your experience at Berklee influence your work on this important initiative? 
At Berklee I met people that I never would have connected with otherwise from different countries and cultures. The fabric that connected us was music, and it's one of the few things in the world that is truly universal. That is a key belief behind this album: Music can universally connect and heal us. 
Once the album is released, how do you envision it helping others? 
Each donation level is tied to a number of albums that will be given to those in recovery programs to foster healing. In addition, donations will be used to fund live performances at recovery treatment centers. 
Learn more about how you can get involved and support the project.