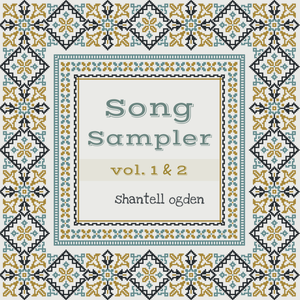 SAUSALITO, CA (June 22, 2020) —Nashville-based Shantell Ogden's highly anticipated sixth studio album, Song Sampler vol. 1 & 2, is now available. It's a seven-song collection that follows on the heels of the highly successful Road That Drives Me, which was named Americana Album of the Year by the International Music and Entertainment Association (IMEA). 
The first single from Song Sampler vol. 1 & 2, "Love On The Fast Track", is currently at #8 on the European Hotdisc Top 40 charts. 
The album can be purchased or streamed at: https://smarturl.it/shantell 
The album is already receiving rave reviews: 
"There are few artists that release output with the consistency of Shantell Ogden. "Outrun My Faith" has one of the most infectious uptempo choruses you'll come across all year." says Chris Farlie of w21Music. 
"Shantell Ogden ticks every box we have here at RMHQ, not least her distinctive and rather lovely voice; but the way she weaves magic into the construction of her songs, of which no two ever sound the same…" adds Alan Harrison of Rocking Magpie. 
Shantell will kick off a mini tour this summer beginning in July: 
- July 30- Sevier Valley Center- Richfield, UT 
- August 26 - Private Event - Provo, UT 
- August 27 - Private Event - Lafayette, CO 
- August 29 - Private Event - Kansas City, MO 
- August 30 - Private Event - St. Louis, MO 
- September 12 - Commodore Grille - Nashville, TN 
"We are excited to have Shantell performing in her hometown," said Kevin Arrington, director, Sevier Valley Center. "Live music is such an important part of our community, and we're looking forward to welcoming everyone back to our venue for a concert by this talented singer/songwriter." 
Sevier Valley Center has hosted such artists as Richard Marx, Michael Martin Murphey, and The Bellamy Brothers. 
Song Sampler vol. 1 & 2 Track Listing 
1. Love on the Fast Track (3:06) 
2. Heart that Breaks Me (3:31) 
3. Heroes and Villains (3:14) 
4. On a Haystack (3:27) 
5. Outrun my Faith (2:54) 
6. The Signal (3:03) 
7. Meet Yourself (2:36) 
For more information about Shantell visit: 
https://shantellogden.com 
https://www.facebook.com/shansmusic 
https://twitter.com/shansmusic 
https://instagram.com/shansmusic 
https://www.youtube.com/user/shansmusic 
https://open.spotify.com/artist/4ukTvMSI8ghZF6wep5WUip 
About Shantell Ogden: 
Nashville-based Shantell Ogden has a gift for crafting songs with real conviction and emotion. Her songs have received airplay on hundreds of country and Americana radio stations internationally, and gained impressive chart positions both in the US and Europe, including a #2 slot behind Chris Stapleton for her single "Blossom in the Dust." Shantell's music has also been featured in shows such as the US hit television series Hart of Dixie and in several feature films. 
Born in Utah, Ogden brings the work ethic she learned growing up on a farm to her life as an independent performing artist. Having toured nationally and in the UK and Ireland, her music has been praised by notable media including Performer Magazine, No Depression, and Maverick Magazine. 
Since the release of her fifth album in 2016, Shantell has enjoyed extensive media appearances including Coffee, Country & Cody on Nashville's WSM - the home of the Grand Ole Opry -Today in Nashville (WSMV) and Good Day Utah (Fox). In addition, she has appeared at high profile festivals including Americana Festand Tin Pan South. Praised for her work with awards including Songwriter of the Year in 2018 International Music and Entertainment Association (IMEA) Awards, Shantell Ogden is truly an artist on the rise.
### 
About Michael Brandvold Marketing:

From working with up-and-coming independent artists of all genres to overseeing online marketing for major acts like KISS, Britney Spears, and Dream Theater, Michael Brandvold's impact on the modern music industry is without question. In addition to spearheading digital strategy creation and online social media management for bands, he has helped create marketing strategies that have made millions of dollars for clients. 
Michael's expertise was instrumental in growing and managing the KISS online community from its inception in 1998 to an enterprise generating millions of dollars every year and engaging more than a half-million visitors every month. 
In addition to assisting with the band's online community, Michael was also instrumental in the creation of the VIP Platinum Ticket Program, which was first implemented during KISS' 2003 US tour. The concept granted the band's biggest fans face-to-face access to the band, premium seating at shows, and exclusive autographed merchandise. 
Over the years, Michael's expertise has been put to use for a number of well-known companies like Universal Music Group, BMG/Sanctuary Records, Rhino Records, Playboy, Roadrunner Records, and Nuclear Blast Records. 
In 2014, Michael published a revised edition of his book, KISS School of Marketing: 11 Lessons Learned While Working with KISS. The digital book quickly climbed to the number one spot on Noisetrade's Business & Finance and Arts & Entertainment lists. 
http://www.MichaelBrandvold.com 
For all press inquiries, contact: 
MICHAEL BRANDVOLD MARKETING & MANAGEMENT 
Michael Brandvold | me@mikebrandvold.com | 415-200-8483