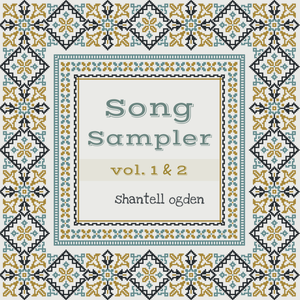 Humbled. Blushing. Grateful.
These are just a few reactions I have when I receive reviews like this for my music. There are so many people behind this album and I'm grateful for Bill McDermott who produced it, Judy Rodman who was the vocal producer the musicians, harmony singers, and my cowriters. These reviews are for the whole village! :)
x- Shantell
---
"As a true artist and major star in the making, this sampler showcases Shantell's songwriting talents and her ability to capture ears instantly. The theme that runs through all five songs is the same: be open about life's difficulties, but optimistic about what the future holds. An incredibly honest and beautiful recording."
- Alan Cackett (full review)
---
"If you haven't heard Ogden's authentic songwriting and silky voice, this new EP Song Sampler Vol.1 is the perfect introduction. 
In the relative confines of an EP Shantell Ogden succeeds where so many stumble, namely blending traditional country with a more contemporary pop sound. Her voice is strong yet with subtlety she sings country in a style that should appeal to many. 'Heroes And Villains' has a powerful drive that complements the delicacy of 'On A Haystack'.
What sums up Shantell Ogden is her versatility. From a solid country base she can rock or tug at the heart strings and she always tells her story with complete integrity."
-Lyndon Bolton Americana Music Show (full review)
---
"A strong confident feminine voice overlaid on some heartfelt personal songs. It's mostly a mainstream country vibe with some Stones-y rock in the mix. Highlight for me is "Love On The Fast Track." 
- Calvin Powers, Americana Music Show
---
"Shantell Ogden ticks every box we have here at RMHQ, not least her distinctive and rather lovely voice; but the way she weaves magic into the construction of her songs, of which no two ever sound the same..."
Alan Harrison, Rocking Magpie (full review)
---
"There are few artists that release output with the consistency of Shantell Ogden, you can dip into any of her previous recordings and find a positive trove of delights and that record is not going to be blemished by her latest release - Song Sampler vol. 1&2."
Chris Falie, W21 Music (full review)
---

"Song Sampler Vol. 1. Emotive storyteller; vocals engagingly interplay with comforting melodies and acoustic-minded instrumentation to reveal picturesque lyrics. Mournful memoir 'On A Haystack' is a standout. Listen to the vivid EP."
- Music City Memo
---
"Shantell is a smart, creative, beautiful songstress who is always learning to be ever better at everything she does, and it shows in her new EP!"
Judy Rodman, Hit Songwriter and Vocal Producer