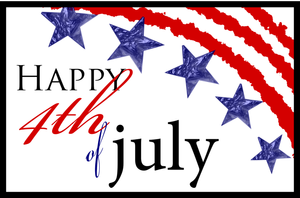 Since moving to Nashville 15 years ago, I've come to believe that many of the best songs never make it through the major label system to get heard by the masses. But today I'm changing that! 
In the spirit of creative freedom, hard-work and everything that makes America great, here are four of my favorite patriotic songs by talented independent artists: 
"March On" by Jeff Batson- Click to listen 
Why I like it- speaks to the sacrifices made by those who serve and those who 'pay the price' at home. Great storytelling and vocals too! 
"One Nation Over God" by Stephanie Layne- Click to listen 
Why I like it- Poignant thinking song with lyrics like "I was taught to treat folks right, red and yellow, black and white." It also speaks to Christian/family values. 
"Great American Song" by Marcum Stewart- Click to listen 
Why I like it- well, in part because I co-wrote it. :) But, I think you'll agree it's a toe-tapping sing-along song that makes you want to rev up the engine and go explore this great land of ours! 
"Heroes Heart" by Amber Hayes- Click to listen 
Why I like it- this tune was written to honor Amber's uncle Bennie who received the Medal of Honor in 2014 and it gives me chills every time. "Above and beyond are just words we say, but you live your life that way." 
I hope you take a moment to listen to and share these songs to celebrate our freedom! Happy Independence Day!